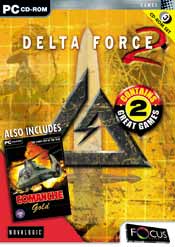 System Requirements

Windows® 95 / 98 / Me / 2000 / XP

Pentium II 300 o

r equivalent

230MB Hard Drive Space
64MB RAM
Any 100% DirectX 6 compatible graphics card
CD-ROM Speed 4x or faster
Any 100% DirectX 6 compatible soundcard
Printer required to print user manual
Multiplayer requires two IPX networked computers
Internet Playable, Internet connection required

Delta Force® 2
---
Execute day and night operations and make your way through fog, rain and snow.
---
Terrorise the terrorists as you battle your way through 40 missions and challenging multiplayer games.
---
Take charge with the new commander's screen – direct your team-mates in single and multiplayer action.
---

Comanche® Gold
---
Superior tactical support – Maximize your mission readiness with a new weapons loadout option and improved wingman intelligence.
---
Realistic combat environments – New, fully-detailed enemy and friendly objects Stunning Voxel Space® 2 terrain and new amazing weather effects.
---
ESS392 (Elspa Age 15+)
3 CD-ROM SET
Contains Two Great Games

Delta Force® 2
You're a member of the U.S. Army's best kept secret: the elite Special Operations unit known as Delta Force – formed to battle terrorism throughout the world. You've been called into action, can you handle the job?

Comanche® Gold
Comanche Gold includes an enhanced version of the best-selling helicopter sim – Comanche 3.
New campaigns, new missions, a mission design tool, weather effects and much more! Comanche Gold also includes a Bonus Campaign designed by a former U.S. Army Team Comanche member. Now, you can fly against other Comanche pilots FREE via multiplayer match-ups through NovaWorld!