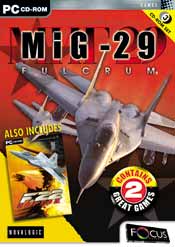 System Requirements
Windows® 95 / 98 / Me / 2000 / XP
Pentium 166 MMX or equivalent (Pentium 200 MMX or faster recommended)
250MB Hard Drive Space
16MB (32MB recommended)
Any 100% DirectX 6.1 compatible graphics card
CD-ROM Speed 4x or faster
Any 100% DirectX 6.1 compatible soundcard
Printer required to print user manual
Multiplayer requires two IPX networked computers
Internet Playable, Internet connection required

MiG-29 Fulcrum®
---
Extremely detailed and interactive cockpit.
---
Over 40 stand alone single-player missions.
---
Mission design tool to create your own sorties.
---
F22™ Raptor™
---
Extended gameplay as mission goals change based on outcomes of previous missions.
---
Advanced "look-around" system provides unrestricted views of the action.
---
ESS393 ( Elspa Age 11+)
3 CD-ROM SET
Contains 2 great games

MiG-29 Fulcrum®
Superior Control
The MiG-29 is one of the world's most manoeuvrable and toughest fighter jets. Its unique profile allows the MiG-29 to execute amazing aerobatic moves like the Cobra and the Tailslide.

F22™ Raptor™
The stealthy, agile F-22 Raptor is a lethal combination of air dominance and precision ground attack capability. With an innovative, high-tech design, the F-22 represents the cutting-edge of modern air combat. Intuitive yet sophisticated flight model allows you to push the envelope of the world's most sophisticated jet fighter.