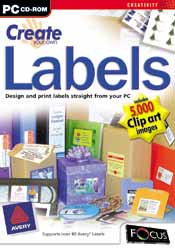 System Requirements

Windows® 95 / 98 / Me / NT / 2000 / XP
486 or equivalent (Pentium recommended)
17MB Hard Drive Space
16MB RAM
800x600x256 colours
CD-ROM Speed 2x or faster
Soundcard not required
Printer required


Supports over 80 Avery® Labels products.
---
Includes a massive 5,000 clip art image library.
---
Personalise your labels by importing your own images.
---
Supports WMF, JPEG, TIF, BMP, PCX, PNG, CMP, plus many more.
---
ESS194
Design and print labels straight from your PC.

Design and print labels using pre-defined Avery® templates!
Always sticking hand-written labels onto your floppy discs, CDs, home video collection, or return labels? If so Create your own Labels, supporting over 80 different types of Avery® labels from the world's leading office product company, is a must for anyone who has a need to print labels. Simply select your template and type in your text, with on-screen positioning options. Label those CDs, tapes, photo albums and organise your home filing systems in seconds. Ideal for name tags, rotary indexes and filofaxes.
The in-built label editor makes it so easy for you to create your own designs, or use one of the many pre-formatted templates. When you are ready to print, just load the printer and sit back and watch your new readable labels appear ready to use.