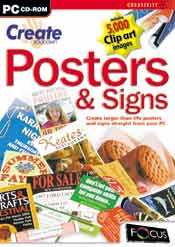 System Requirements

Windows® 95 / 98 / Me / NT / 2000 / XP
Pentium 75 or equivalent
13MB Hard Drive Space
16MB RAM (32MB for Windows NT / 2000 or Windows XP)
800x600x256 colours
CD-ROM Speed 2x or faster
Soundcard not required
Printer required

Over 100 pre-designed posters & signs.
---
Create a poster or sign up to 30 sheets wide by 30 sheets tall (252 inches x 345 inches).
---
Built-in photo editor for mega-creative power.
---
Comes complete with 5,000 clip art images in your own design library.
---
ESS199
Create larger than life posters and signs straight from your PC.
Create your own Posters & Signs allows you to create posters larger than life direct from your home or work PC using a basic printer. From A4 to custom size, this poster and sign maker tiles your design across as many sheets of paper as you require to make that poster come to life. Simply paste them together and hey presto! Life size signs for all occasions. With the built-in Photo Editor you can scan in a photo, edit it and then drop it directly into your poster. Simple and easy to use with hundreds of text effects, gradient colour blends and all the facilities associated with DTP. Ideal for all the family for use at home, school or work.
Disclaimer: Photographs used on this packaging are not included on this CD-ROM.