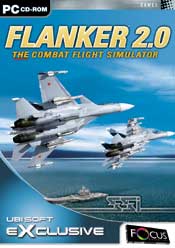 System Requirements

Windows® 95 / 98 / Me


(Not compatible: Windows® 2000 / XP)
Pentium® 200 or equivalent
600MB Hard Drive Space
32MB RAM
Any 4MB DirectX 6.1compatible graphics card
CD-ROM Speed 8x or faster
Any 100% DirectX 6.1 compatible soundcard
Printer required to print user manual
Multiplayer using two networked computers
Internet Playable, Internet connection required


SIMULATION FEATURES:
---
NEW 3D graphics engine using full texture-mapped terrain.
---
NEW Aircraft: Su-33 Naval carrier-based Flanker.
---
NEW 3D sound system with shift and Doppler effects.
---
Campaign mission module includes linked scenarios, transfer effects and mission results; multiple outcomes and replayability are options. A semi-dynamic campaign provides flexibility and a realistic storyline.
---
Mission editor allows the user to create a realistic theatre of operation.
---
ESS377 (Elspa Age 3+)
The Combat Flight Simulator
Falcons Beware: There's a New Bird of Prey on Your Tail.

FLANKER™ 2.0 features stunning graphics and streamlined playability – without compromising the technical excellence of its famous predecessor!
Using previously classified Russian satellite imagery and a new 3D graphics engine, this state-of-the-art combat sim provides photo-realistic terrain. Improved flight dynamics, a new 3D sound system, and accurate damage modelling create a true combat experience.
Novice users will be delighted by the intuitive menu system. From the training sessions to the ultra-realistic flight model, this premier combat flight sim is a white knuckle rush for novice and expert alike!
Includes training modules – complete with an in-cockpit instructor.
Highly detailed 3D ships, aircraft and ground vehicles.
Engage in multi-player furballs with up to 16 players via a LAN – go head-to-head or join cooperative missions on a LAN or the Internet.