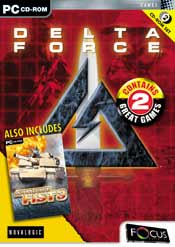 System Requirements

Windows® 95 / 98 / Me / 2000 / XP

Pentium II 233 MMX or

equivalent

200MB Hard Drive Space

64MB

RAM

Any 100% DirectX 6 compatible graphics card
CD-ROM Speed 4x or faster
Any 100% DirectX 6 compatible soundcard (Full Duplex required for VON)
Printer required to print user manual
Multiplayer requires two IPX networked computers
Internet Playable, Internet connection required

Delta Force® 1
---
Engage in over 40 gut-wrenching single player/cooperative missions across five continents.
---
Rich 3D positional sounds.
---
Full range of human movements brought to life with motion capture.
---
*multi-player capabilities.
*via NOVAWORLD
---

Armored Fist® 3
---
Includes Multiplayer facility via NovaWorld.
---
ESS391 (Elspa Age 15+)
2 CD SET
Contains Two Great Games

Delta Force® 1
20 clicks from enemy lines. Dropped in with only the equipment strapped to your body. You are the hunter. This is what you've trained for… what you live for… you are Delta Force.

Armored Fist® 3
The Definitive M1A2 Abrams Battle Simulation.
Welcome to the front lines, where you drive to work in 70 tons of fire-breathing steel. Take command, fight smart – and bring your soldiers back alive. More than 50 missions take you from basic tank training through four campaigns set in hot spots around the world. Take control of Commander, Driver and Gunner positions with interfaces featuring actual high-res M1A2 photographs. Even create your own battles for the ultimate challenge using the full-featured Mission Editor.