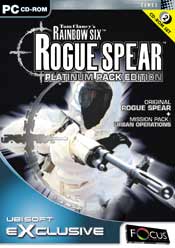 System Requirements

Windows® 95 / 98 / Me / XP
Pentium II 266MHz or equivalent
400MB Hard Drive Space
64MB RAM
Any 4MB DirectX 7.0 compatible graphics card
CD-ROM Speed 4x or faster
Any DirectX 7.0 compatible soundcard
Printer required to print user manual
Multiplayer requires two networked computers
Internet Playable, Internet connection required


31 missions plus multiplayer levels for hours of thrilling action and lethal suspense.
---
Mission editor including mission adjustments and terrorist placement.
---
Full weather effects including snow and rain to make ever-challenging missions.
---
New replay features allow you to record missions.
---
Five classic levels from the original Tom Clancy's Rainbow Six™.
---
New custom mission feature allows you to choose game type, map and difficulty before playing.
---
ESS399 (16+ PEGI)
2 CD SET
ROGUE SPEAR, THE MOST REALISTIC COUNTER-TERRORIST GAME EVER, HITS BACK WITH ITS DEADLIEST ADD ON : URBAN OPERATIONS.

Back in full force is Tom Clancy's hallmark realism and suspense in Rogue Spear, the game awarded by Computer Gaming World and PC Gamer: WORLD'S 2000 ACTION GAME OF THE YEAR.
Rogue Spear straddles the razor's edge separating justice from the dark forces of geopolitical turmoil. It blends spine-tingling tactics and explosive action into intense counter-terrorist warfare.
In Urban Operations, the thrilling add-on for Rogue Spear, you will face the counter-terrorist team's worst nightmare: famous urban settings and innocent bystanders. Due to the public nature of these missions, the secrecy of the Rainbow organisation is also at stake.
Lead the RAINBOW team of elite multi-national special operatives against deadly terrorist organisations. Life or death missions will take you to real world settings across the globe, including a Jumbo Jet aeroplane, the Museum of Art, and renowned cities such as Istanbul, London and Hong Kong. Rogue Spear and Urban Operations look so real, you'll be yelling "Tango Down" in your sleep for weeks.