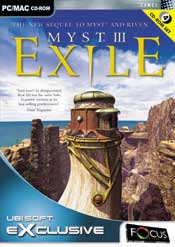 PC System Requirements

Windows® 95 / 98 / Me


(Not compatible: Windows® XP)
Pentium® II 233 MHZ or equivalent

200MB Hard Drive Space

64MB RAM
640x480x16bit colour
CD-ROM Speed 4x or faster
Any 100% Windows® compatible soundcard
Printer required to print user manual
MAC System Requirements
MacOS 8.1 or higher
(Not compatible: MAC OS X)
233 MHz G3 or equivalent

200MB Hard Drive Space

64MB RAM
640x480 display, thousands of colours
CD-ROM Speed 4x or faster
Soundcard required
Printer required to print user manual


Five immense Ages to explore.
---
Hours of mysteries to uncover.
---
Dramatic new storyline.
---
Rich original music and riveting cinematics.
---
Free-look movement system.
---
View 360º at every location.
---
ESS403 (Elspa Age 3+)
4 CD-ROM SET
"The idea that someone may be linking into my study, reading all of my books, disturbs me…"

In an unprecedented step beyond Myst® and Riven™, let this adventure game cast you into a complex tale of betrayal and revenge. Seamlessly blending live action with a 360º landscape, Myst® III: Exile will immerse you in a world so real, you'll wish it wasn't a game.