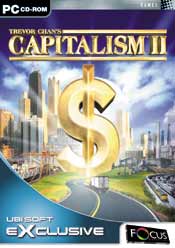 System Requirements

Windows® 95 / 98 / Me / 2000 / XP

Pentium® 233 MHz or equivalent
250MB Hard Drive Space
64MB RAM
Any DirectX 8.0a compatible graphics card
CD-ROM Speed 4x or faster
Any DirectX 8.0a compatible soundcard
Printer required to print user manual
Multiplayer requires two networked computers
Internet Playable, Internet connection required


This is the most comprehensive business simulation available.
---
New multiplayer game for up to 7 players.
---
Hire and fire upper management positions such as Chief Operating Officer, Chief Marketing Officer and Chief Technical Officer.
---
Develop your own technology or acquire it from another company.
---
Expand your corporation into a true conglomerate.
---
ESS461 ( Elspa Age 11+)
The Business Simulation for those who mean Business. Create and control the business empire of your dreams.
This in-depth strategy game covers almost every aspect of business that could be encountered in the real world. Coordinate marketing, manufacturing, purchasing, importing, retailing and more to become a corporate CEO.

Capitalism™ II features 2 new campaigns – The Capitalist Campaign and the Entrepreneur Campaign – plus an in-depth tutorial to make the most complex business strategy a breeze to learn.

Get ink on your fingers and take to the airwaves with your newspaper publishers, TV and radio stations.