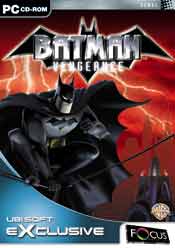 System Requirements

Windows® 95 / 98 / Me / 2000 / XP
Pentium® II 450 MHz or equivalent
550MB Hard Drive Space
128MB RAM
32MB DirectX 8 compatible graphics card (GeForce)
CD-ROM Speed 2x or faster
Any 100% DirectX 8 compatible soundcard
Printer required to print user manual
Multiplayer No
Internet Playable No


Next Gen Technology
Over 40 minutes of rendered cinematics and 19 open environments through Gotham City.
---
ESS466 (Elspa Age 11+)
A Darker Justice Must Be Served.
Action with a Vengeance
Become Batman with blistering martial arts combos, over 500 unique animated moves and a multi-functional cape with its own A.I.

Live as the Dark Knight
Explore, fight, sneak, decipher puzzles, pilot the Batplane, drive the Batmobile and battle in massive mid-air freefalls.

Sleek Weapons and Devices
Wield Batarangs, Batgrapples, flash bombs, remote charges, Batcuffs, nets, the Batlauncher, Batscope and more.