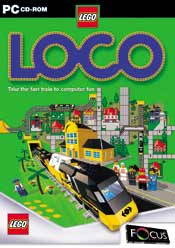 System Requirements
Windows® 95 / 98 / Me / 2000 / XP
Pentium® 133 or equivalent
150MB Hard Drive Space
32MB RAM
Any 1MB DirectX 6 compatible graphics card
CD-ROM Speed 4x or faster
Any 100% DirectX 6 compatible soundcard
Printer required to print user manual
Multiplayer: Yes (two networked computers required)
Internet Playable: No

Send trains and mail around your network

Construct. Ride. Expand. Connect.

---
A variety of great sound and animation effects create a vibrant and bustling atmosphere.

---
Make LEGO Loco your screensaver – it runs even when your PC is idle.
---
ESS467 (Age 3+)
Take the fast train to computer fun.
Assemble your own fully-operational train set on your computer, using LEGO® trains.

Turn your PC into a rail system with three trains, eight types of carriage and limitless track-building potential.

Populate your LEGO railway with tiny commuters who ride the trains and wander around your town.

Route trains from your machine to others on a Local Area Network and deliver messages.

You can even carry out other PC tasks while the train set is operational.