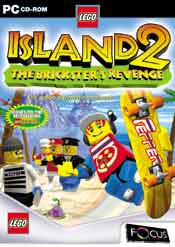 System Requirements
Windows® 95 / 98 / Me / XP
Pentium® II 266 or equivalent
650MB Hard Drive Space
64MB RAM
Any 8MB DirectX 7.0, 3D compatible graphics card
CD-ROM Speed 4x or faster
Any 100% DirectX 7.0 compatible soundcard
Printer required to print manual
Multiplayer: No
Internet Playable: No


Sequel to the BEST SELLING LEGO® Island.

---
Have fun travelling around LEGO® Island on your cool skateboard.

---
Adventurers' Island - escape the rolling rock as you uncover the secrets of the Mummies' Tomb.

---
Castle Island - defeat the Dark Knight in a thrill packed jousting tournament.

---
The Infomaniac holds the secrets to LEGO® Island, if you ever need any help just give him a call.
---
ESS475 (Elspa Age 3+)
The action adventure continues.

The Brickster is back and out to cause more mischief in this wild, racing, chasing, island-hopping sequel. In your quest to piece together The Infomaniac's Constructopedia, you'll drive, sky-dive, scuba-dive, fly a plane and even ride a dinosaur as you chase the Brickster down through these amazing new LEGO worlds.

Meet all kinds of fun characters along the way as you journey through the game to the final showdown.

You'll need all your skills to solve the puzzle and achieve your ultimate goal, to prevent LEGO® Island being ruined.

ARE YOU READY?