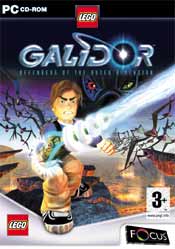 PC System Requirements
Windows® 98 / Me / 2000 / XP
Pentium® lll 600 or equivalent
600MB Hard Drive Space
128MB
Any 16 MB DirectX 9, 3D compatible graphics card
CD-ROM Speed 4x or faster
Any 100% DirectX 9 compatible soundcard
Required to print user manual
Multiplayer: No
Internet not required


SKILLS

Defeat numerous enemies and mind-controlled bosses.
---
Adventure through three fantastical alien worlds containing eleven thrill-packed levels.
---
Switch rapidly between the various Glinches for high-speed gameplay action.
---
Perform the most amazing Glinches into Power Jump, Power Armour, Power Glide, Power Grapple, Power Energiser and Power Wings.

---
ESS501
PEGI 3+
Master the Glinch!

As Nick Bluetooth you must adventure through the Outer Dimension on an action packed quest to rescue your friends from the clutches of the evil tyrant Gorm. To succeed you must master your newly discovered Glinching ability - a gift that allows you to fly, jump, grapple or navigate through your quests.
Explore three other - worldly realms, overcome Gorm's creatures and illusions, defeat the bosses and collect the all-important key fragments.
Ultimately, you must face Gorm himself and rid the Outer Dimension of his evil power forever. So unlock the secret passageway to GALIDOR and deploy all your Glinches to win the final showdown!