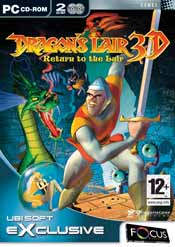 PC System Requirements
Windows® 98 / Me / 2000 / XP
Pentium® II 300 or equivalent
700MB Hard Drive Space
64MB RAM
Any 16MB DirectX 8.1 open GL compatible graphics card
CD-ROM Speed 4x or faster
Any 100% DirectX 8.1 compatible soundcard
Required to print user manual
Multiplayer: No
Internet not required



• Take full control of your favourite knight in his venture into a new 3D enchanted castle.
---
• Defeat the wily Wizard Mordroc, Singe the Dragon, and nearly 40 monstrous minions like Fire Drakes and Giddy Goons.
---
• Survive over 250 treacherous castle chambers loaded with devious traps, wicked puzzles and hidden secrets.
---
• Dragon's Lair 3D resurrects the popular characters and creatures featured in the classic arcade game.
---
ESS514
RETURN TO THE LAIR

Become Dirk the Daring, a brave yet bumbling knight and save Princess Daphne who has been kidnapped by the evil dragon Singe and hidden in a medieval castle owned by Mordroc, a powerful and malevolent wizard. Advance through the castle's treacherous, labyrinth like halls with the help of a magical amulet, and overcome a slew of challenges. Use razor-sharp reflexes, cunning and tremendous feats of derring-do to solve puzzles, defeat a variety of enemies, and fight your way through the castle to find Daphne and save the kingdom from Mordroc's clutches!
Reviews & Awards
"Dragon's Lair 3D is a fine title that stays very true to its roots. The challenging puzzles and great graphics will entice old-school fans." www.gamezone.com
"A memorable, nostalgic, vivid, and entertaining ride through an entirely trial and error puzzle broken into some 250 rooms. See a puzzle, beat a puzzle, watch a story unfold. It's simplistic and addictive." www.ign.com