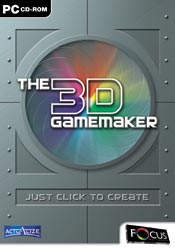 System Requirements

Windowsฎ 95 / 98 / Me / 2000 / XP
Pentium II 400 MHz or equivalent
600MB Hard Drive Space
64MB RAM
(128MB recommended)
Any 8MB DirectX 7 3D graphics card required (16MB recommended)
CD-ROM Speed 4x or faster
Any DirectX 7 compatible soundcard
Printer required to print user manual
Internet optional for downloads, Internet connection required


Instant and amazing results in seconds.

---
Random Game Option - let your computer create a uniquely playable game for you with just one click of the mouse.

---
Create a variety of exciting game scenarios with over 360 pre-made scenes.

---
Over 500 3D objects.

---
Over 320 Sounds.

---
MP3 music support – includes 180 MP3 files.

---
Add personalised sound effects to games.

---
Entirely customisable – utilise or scan in your own images.

---
Import your own 3D models.

---
Download FREE objects from the official website.

---
Save games as exe files to share with your friends.

---
Swap games via disk or via the net with other users.

---
Place enemies, objects and items where you want to with the Placement Editor.
---
FFB028
Unleash your imagination... with the 3D Gamemaker!
Now anyone can build their ideal game in seconds. With just one click of a mouse, you can create a uniquely playable game without needing any programming knowledge or artistic skills at all. Offering over 12 billion gaming options, The 3D Gamemaker opens up a whole new concept in gaming, providing fun for all the family.

• Create your own fast paced First Person Shooters.
• Make Horror games with 3rd person controls and scare yourself silly!
• War objects make tank battles a cinch to knock up.
• Take flight and battle around different universes.
• Create lap based driving games and add in any hostile you like.
• Set your game within the Jungle.
• Build games within a virtual Cartoon environment.
• Let your imagination run wild and use the silly graphics to make zany, fun games.
• Be a star of your own game - using a simple picture grabber, alter the textures of the 3D objects and see your own face on in-game characters.
• Level design is so simple, you can create your very own scenes with the easy to use scene Editor.
• Add wings, wheels or legs to any player object to create a game that's unique and different.