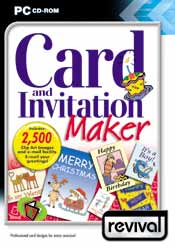 System Requirements

Windows® 95 / 98 / Me / NT / 2000 / XP
Pentium® 166 MMX or equivalent
17MB Hard Drive Space
16MB RAM
640x480x256 colours
CD-ROM Speed 2x or faster
Soundcard not required
Printer required
Internet optional


Choose from a broad range of pre-designed cards, including Announcements, Birthdays, Christmas, Good Luck and Events.
---
Import graphics from the World Wide Web using the 'Internet Pallet' to compliment your work.
---
Create speech bubbles, stars, polygons, hexagons and triangles using the comprehensive drawing tools.
---
Send objects to the front or back to create multi-layering effects in your designs.
---
Supports .bmp and .wmf picture formats.
---
An inbuilt e-mail facility allows you to send your card or invitation with ease ensuring it gets there on time.
---
Store details of friends and relatives in the address book, complete with mail merge facility.
---
Clip art topics includes: over 2,500 designs for Birthdays, Christmas, Easter, Fathers Day, Mothers Day, Get Well, Halloween, Thank You, Valentine, Wedding, Births, Sympathy, Graduation, Congratulations, Hanukkah and New Home.
---
REV014
Professional card designs for every occasion!
Whatever the occasion, Card and Invitation Maker allows you to create an unlimited number of stunning greeting cards and personal invitations using your home PC and printer.
Simply use one of the inbuilt templates or add your own personal touch and within minutes you'll be producing spectacular, professional looking cards and invitations to make every occasion a memorable one. Import your favourite photograph from your own collection or favourite graphic direct from the Internet to add that ultimate personal touch. Missed the post? No problem, make belated birthday cards a thing of the past by sending your card in minutes, anywhere in the world, using the inbuilt e-mail facility.
What's more the program is so easy and fun to use, the whole family will soon be creating imaginative card designs for all their friends and relatives.