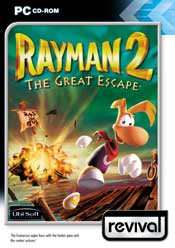 System Requirements

Windows® 95 / 98 / Me /
XP Home
Pentium 133 or equivalent
220MB Hard Drive Space
32MB RAM
Any 4MB DirectX 6.1 compatible graphics card
CD-ROM Speed 2x or faster
Any DirectX 6.1 compatible soundcard
Printer not required

Ground breaking graphics and more than 40 hours of sheer fun and exhilaration.
---
Top Notch game play, real time 3D, suspense, breakneck action and stunts.
---
Deal with dangerous environments from huge precipices and unstable pontoons to infected swamps, defeat villainous enemies and complete your missions.
---
An extremely talented hero who has a whole host of actions: jump, swim, loop the loop, water ski, scramble between two vertical walls, use his hair as a helicopter and more.
---
Groundbreaking cinematic sequences add to the player's clarity and enjoyment.
---
REV031 (Elspa Age 3+)
Have you met Rayman, the humorous super hero with the fastest pace and the coolest actions?

Well he's back!
All rested up from his past adventures, Rayman® is ready for action in an all-new dimension. Ruthless pirates have invaded the Glades of Dreams to capture and enslave Rayman's friends. Will he save them? Only you can find out.
Your mission:
To free Rayman's friends and reap the reward of their magical powers, defeat barbarous pirates and gather the four masks of Polokus. Send shock waves through your senses as you run, jump, fly, ride, water ski and puzzle your way through 20 fantastical worlds.

Reviews & Awards
"It's almost like stepping into the world of Willie Wonka and the Chocolate Factory, only more eccentric, if you can believe that. The colours are vibrant, the characters wacky, and the musical score terrific."
www.pcgameworld.com

"Not only is it weird, bizarrely coloured and challenging, with superb music and graphics, it's also hugely playable and very addictive indeed, and manages to be easily the best 3D platformer on the PC to date. Top quality stuff indeed!"
Games Domain – Highly Recommended