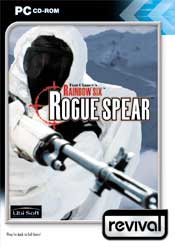 System Requirements

Windows® 95 / 98 / Me / XP
Pentium 266MMX or equivalent
150MB Hard Drive Space
32MB RAM (64 recommended)
Any 4MB Direct 3D compatible graphics card
CD-ROM Speed 4x or faster
Any 100% DirectX 6.1 compatible soundcard
Printer required to print user manual
Multiplayer requires two networked computers
Internet Playable, Internet connection required


Full sniper support: sniper specialists, sniper weapons, special planning and action phase controls for snipers and special firing positions.
---
Mission editor allows play customisation and terrorist placement.
---
Advanced AI-terrorists are move realistic and lethal than ever.
---
Weather effects including snow and rain that make missions even more intense and challenging.
---
Improved special effects with grenades, weapons and flashbangs.
---
New Replay Feature allows you to record a mission, watch it later and share with other players on-line.
---
Incredible 3D sound with EAX 2.0.
---
Joystick support.
---
Huge variety of new gear and weapons.
---
New observer mode.
---
New single player options where it's your best team versus all the terrorists or you alone against the world.
REV035 (Elspa Age 15+)
Back in full force is Tom Clancy's hallmark realism and suspense in Rogue Spear, the sequel to PC Gamer's 1998 Action Game of the year – Rainbow Six. Rogue Spear straddles the razor's edge separating justice from the dark forces of geopolitical turmoil. It blends spine-tingling tactics and explosive action into intense counter-terrorist warfare. Lead the RAINBOW team of elite multi-national special operatives against deadly terrorist organisations. Life or death missions will take you to real world settings across the globe, including a Jumbo Jet airplane and the Museum of Art. Rogue Spear seems so real, you'll be yelling "Tango Down" in your sleep for weeks.