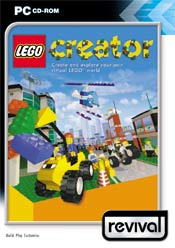 System Requirements

Windows® 95 / 98 / Me / 2000 / XP

Pentium® 166 MMX or equivalent
110MB Hard Drive Space
32MB RAM
Any DirectX 6, 3D compatible graphics card
CD-ROM Speed 6x or faster
Any 100% DirectX 6 compatible soundcard
Printer required to print user manual
Multiplayer: No
Internet Playable: No


Build and play with unlimited 3-D LEGO bricks in a virtual environment.
---
Combine finished models to create imaginative LEGO worlds.
---
Navigate and explore from the viewpoint of a Minifigure or a LEGO camera.
---
Add extra excitement with action bricks, including hinges, rotors, lights and Destructa bricks.
---
Listen carefully to the friendly Wizard... he knows every trick in the book.
---
Experience your LEGO world in a whole new way by exploring at night.
---
Generate and print building instructions, then share them with friends.
---
Enter and investigate the buildings you create from the viewpoint of a LEGO Minifigure.
---
Explore your world by driving or flying around in LEGO vehicles. Better still, create your own.
---
REV045 ( Elspa Age 3+)
Be the master of your own virtual universe

LEGO Creator provides a unique
3-D construction environment with an almost infinite supply of real LEGO® bricks. The easy-to-use interface takes you to the outermost reaches of your imagination and the absence of gravity means there's no limit to your virtual world. Finished models can be combined to create your own LEGO worlds which you can then explore. A combination of fantastic animation effects, action bricks and your own imagination make LEGO Creator the ultimate in fun.