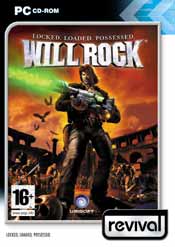 System Requirements

Windows® 98 / Me / 2000 / XP

Pentium® III 500 or equivalent
900MB Hard Drive Space
128MB RAM
Any 32MB DirectX 9.0 compatible graphics card*
CD-ROM Speed 4x or faster
Any 100% DirectX 9.0 compatible soundcard
Printer required to print user manual
Multiplayer: Yes (two networked computers required)
Internet Playable: Yes (Internet connection required)
*Must support Hardware Texture and Lighting. Unsupported cards: 3DFX Voodoo series, Kyro / Kyro II, Nvidia TNT, ATI Rage series (and earlier), SiS / Intel Graphics Chips/Cards, Matrox 450/550 (and earlier).


Battle hordes of beautifully rendered creatures, monsters, warriors and gods.

---
Explore 10 levels of amazingly real Greek ruins with beautifully modelled and animated opponents and outstanding bosses.

---
Furious multiplayer fights for up to 8 players, including Capture-the-Flag, Deathmatch and Treasure Hunt.

---
An array of high-tech weapons that make the Trojan Horse look like a toy. Weapons include acid gun, flaming crossbow, and nuclear atomic gun with
terrific hidden powers and astonishing visual effects.
---
REV055 (+16 PEGI)
LOCKED, LOADED, POSSESSED.

Raw power courses through every fibre of your being. It feeds on your hate and fuels your need for revenge. Where once there was weakness and self-doubt, now there is only confidence, power and grim resolve.

You are no longer a man, for within you is the Titan Prometheus. On your hand his sigil glows – a reminder that you share not only his power, but also his mission to defeat the gods themselves.