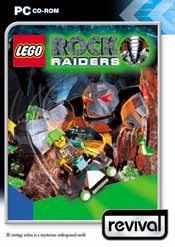 System Requirements
Windows® 95 / 98 / Me / XP
Pentium® 200 MMX or equivalent
200MB Hard Drive Space
32MB RAM
Any 4MB DirectX 6.1 compatible graphics card
CD-ROM Speed 4x or faster
Any 100% DirectX 6.1 compatible soundcard
Printer required to print user manual
Multiplayer: No
Internet Playable: No


Navigate your way through the dark underground tunnels, watching out for Lava flows and other natural hazards.

---
Take command of the Rock Raiders team and their vehicles, including the cool teleporter.

---
Mine for the Energy Crystals that power your ships engines using the Chrome Crusher.

---
Beware of the Rock Monsters. They'll do anything to guard their precious Energy Crystals.
---
REV062 (Age 3+)
3D strategy action in a mysterious underground world.
Stranded in orbit around an uncharted planet, the crew of the LMS Explorer is faced with the challenge of establishing a base camp beneath the planet's surface.

Your mission is to take command of the Rock Raiders team and navigate the Rock Raiders' vehicles through 25 exciting missions. Explore underground caverns in 3 different types of terrain - Rock, Lava and Ice - in a quest to mine enough Energy Crystals to re-power the engines of the LMS Explorer and get the Rock Raiders home safely.