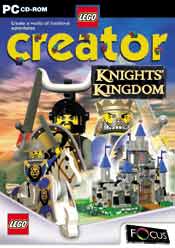 System Requirements
Windows® 95 / 98 / Me / 2000 / XP
Pentium® II 233 MMX or equivalent
450MB Hard Drive Space
32MB RAM
Any 8MB DirectX 7.0a, 3D compatible graphics card
CD-ROM Speed 4x or faster
Any 100% DirectX 7.0a compatible soundcard
Printer required to print user manual
Multiplayer: No
Internet Playable: No


Have fun with the Destructa brick - deconstruct in half the time it took you to construct.
---
Build your own models brick by brick in the Olde Worlde Workshop.
---
See if good will conquer evil in your magical kingdom of adventure.
---
ESS483
(Age 3+)
Create a world of medieval adventures.
Create your very own medieval kingdom of adventure, role-playing scenes from the past with fun LEGO® Minifigures.

Enlist the help of brave warrior Richard the Strong as you enter a land where you have the power to shape history. Will good conquer evil? It's entirely up to you.

Design and build the castle, select battalions of King Leo's heroic knights and watch them do battle against evil Cedric the Bull.

Construct siege towers, rescue the fair damsel and at all times, beware the dragon!