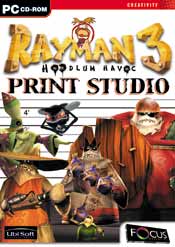 System Requirements

Windows® 95 / 98 / Me / 2000 / XP

Pentium® 75 or equivalent
2MB Hard Drive Space
16MB RAM (32MB for Windows 2000 / XP)
800x600x16bit colour
CD-ROM Speed 4x or faster
Soundcard not required
Printer required


Rayman® and heinous hoodlums Dark Lums, Hoodstyler, Hoodstormer and Grims will burst out from:
• Greeting Cards
• Stickers and Name Tags
• Bookmarks and Door Hangers
• Writing Paper and Calendars
---
ESS455 ( Elspa Age 3+)
Everyone's favourite limb-free super hero – Rayman® – is back to brighten up your home!

Stand back as the action hero with the helicopter hair, along with the irreverent cast of characters from 'Hoodlum Havoc' turn your computer and printer into a home printing studio!

Add your favourite Hoodlum Havoc characters and wacky scenes from the weird psychedelic world that Rayman® inhabits, to create your own cards, calendars and writing paper. Then choose from a variety of borders, backgrounds and stamps to finish them off.