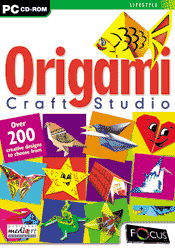 System Requirements

Windows® 98 / Me / 2000 / XP
Pentium® II 333 or equivalent
50MB Hard Drive Space
128MB RAM
800x600x16bit colours
CD-ROM Speed 4x or faster
Optional (Any 100% Windows® compatible soundcard recommended)
Printer required
Internet Optional (recommended)

Step 1. Choose your design.

Step 2. Print your design.


Step 3. Follow instructions.

Step 4. Create your model.

Step 5. Your final design.
ESS456
The beautiful art of paper folding.

The ancient art of Origami has fascinated millions of people around the world, for centuries. Now you too can create stunning origami models that will astonish your friends and family.

Origami Craft Studio is ideal for beginners and experts alike, containing over 200 exquisite models. Each design is printed out with clear and concise instructions, specific to each model featured. Enabling you to create your chosen model from start to finish with ease.

With eight categories including Birds, Animals, Planes and Clothes, and patterns ranging from easy to very complex, you'll enjoy hours of fun making beautiful folded paper creations to the delight of friends and family.

Discover your creative side - with Origami Craft Studio you can turn a piece of paper into a beautiful, crafted model!