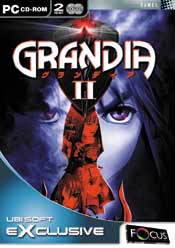 System Requirements

Windows® 95 / 98 / Me / 2000 / XP
Pentium® II 350 or equivalent
850MB Hard Drive Space
64MB RAM
Any 16MB DirectX 8.0a 3D compatible graphics card (32MB recommended)
CD-ROM Speed 8x or faster
Any DirectX 8.0a compatible soundcard
Printer required to print user manual


A deep, rich and captivating storyline.
---
Beautiful 3D landscapes and environments.
---
Groundbreaking battle system requiring tactics, skill, timing and technique.
---
Easy-to-use interface catering to newcomers and hardcore RPG fans alike.
---
Reviews & Awards
"Grandia II mixes a solid story, good-looking visuals, and a challenging combat system into an enjoyable package of fun". www.gamespy.com
"Expertly combining real-time and turn-based elements, Grandia II's battles are simple yet subtly strategic, with a refreshing degree of movement and plenty of pyrotechnic excess". PC Zone.
ESS458
Born of different worlds, woven together by fate each shall rise to face their destiny.

Thousands of years ago, Granas and Valmar, the ever-duelling gods of light and dark, engaged in their final battle. The resulting cataclysm shattered the world and created many seemingly impassable cracks in the planet's surface. Whilst the two gods were slumbering, a church to Granas was erected, and this sacred order kept Valmar's evil forces sealed away. One young girl, Elena – a Granas Songstress, is the key to keeping the seal intact.

As Ryudo a young Geohound - you and your feathered friend Skye are hired to escort Elena to the seal-maintenance ceremony. As the ceremony is about to begin, things go terribly wrong and evil forces are released onto the world. Pursued by the mysterious and somewhat unpredictable Millenia, Ryudo and Elena hurry onward to prevent Valmar's awakening. Embroiled between the forces of good and evil Ryudo must follow his destiny and save the people he detests so much.

Enter a visually astounding world with more than 5 hours of beautiful cinematics.

Experience one of the most critically acclaimed combat engines in RPG history.

Over 1000 characters to interact with.