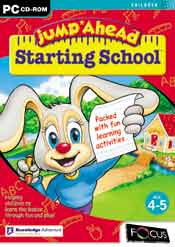 The Alphabet
Phonics
Rhyming
Word pairs
Sentences
Visual discrimination
Numbers and counting
Ordering and sequencing
Shapes and colours
Time concepts
Listening skills
System Requirements
Windows® 95 / 98 / Me / NT / 2000 / XP
486 or equivalent
5MB Hard Drive Space
16MB RAM
640x480x256 colours
CD-ROM Speed 2x or faster
Any 100% Windows compatible soundcard
Printer optional


16 learning activities.

---
8 sing and learn songs.

---
Assessment Technology™.

---
Adjustable difficulty levels.

---
Printable workbook.
---
ESS355 (Age 4-5)
Helping children to learn the basics through fun and play!

Join Hopsalot the rabbit and friends as you explore an interactive classroom where fun, music and games are the reward for curiosity. Packed with 16 activities that teach children the essential skills for starting school, this version of the award-winning original features new graphics, extra phonics-specific activities and skill Assessment Technology™.
Rewards and Progress
Earn gold stars and trade them in for
a trip to the zoo. Monitor your child's performance with the Progress Report.

Teaches phonics and basic language skills
Phonics activities and a variety of language games help build critical pre-reading skills.

Builds early maths skills
Children have fun whilst Mr Hopsalot teaches them basic maths skills including counting, ordering, sequencing and time.

Packed with fun learning activities
The classroom is the starting point for children's learning adventures.