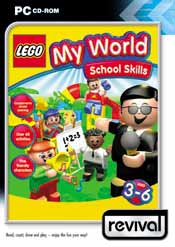 System Requirements
Windows® 95 / 98 / Me / 2000 / XP
Pentium® 200 MMX or equivalent
15MB Hard Drive Space
32MB RAM
Any 4MB DirectX 7.0a compatible graphics card (640x480x16bit colour)

CD-ROM Speed 4x or faster
Any 100% DirectX 7.0a compatible soundcard
Printer required to print user manual
Multiplayer: No
Internet Playable: No


Choose a Learning Environment - Numbers, Letters, Art or Music.

---
Pick a learning friend to explore the environment.

---
Learn school readiness skills from your friend.

---
Teach what you've learned to Clicky and Bricky.
---
Over 45 activities.

---
ESS472 (Age 3-6)
Read, count, draw and play - enjoy the fun your way!
Let your imagination take you to a whole new world, where new friends will help you explore subjects.
Discover a new way of learning tailored to your child's individual needs which complements the skills they're learning in school.
My World School Skills is the ideal setting for your child to learn more about Maths, Words, Music and Art in a magical 3D-world. Five characters, each with a different style of teaching, guide your child through the four activity areas, ensuring that they learn in the best way suited to them. This personalised learning system offers a unique means of building their essential knowledge in trusted surroundings where your child is free to use their imagination and learn through play.

Features:
World and letter recognition
Reading skills
Vocabulary building
Counting and sorting numbers
Addition and subtraction
Visual creativity and patterns
Music appreciation
Sound and rhythm matching
Problem-solving
Memory building